Saraswati Puja Recipes
Delectable Saraswati Puja recipes form an integral part of the Hindu festival Saraswati Puja which is observed on the January-February month of the Gregorian calendar (Maagh-Phalgun). The South Indian Saraswati Puja recipes are a variation of mainly vadai and channa.
Some Popular Saraswati Puja Recipes:
Medu Vada: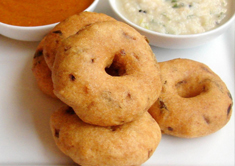 This golden fried, crispy, crunchy, piping hot cakes is a South Indian delicacy. This is one of the popular South Indian Saraswati Puja recipes which is savoured after the completion of the puja and forms a part of a hearty meal. Medu vada along with Pongal soaked in sambhar, crunchy dosa and sweet pongal forms an ideal breakfast menu.
Recipe of Medu Vada:
Ingredients needed: Urad dal (2.5 cups),green chilli (2), peppercorns (1 tsp.), raw rice (2 tbsp.), onion (1), asafoetida powder (pinch), salt to taste, coriander and curry leaves and oil to fry.
Method:
Soak the raw rice and urad dal in water for about an hour.
Grind the urad dal and raw rice mixture into a fine paste with green chilli.
To this batter add chopped onion finally, peppercorns, asofoetida powder,green chilli, coriander and curry leaves in a bowl.
Take little portions of the batter and deep fry them in hot oil to get the golden brown, lip smacking crunchy vadas.
Serve piping hot with sambhar or chutney.
Chole Sundal: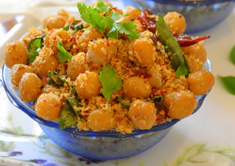 This is one of the scrumptious Saraswati Puja recipes, rich in taste and protein. This is a very delicious and quickly prepared healthy recipe in which the chick peas are soaked in water and boiled till soft. It is then seasoned with red chilli, mustard, coconut and cumin.
Recipe of Chole Sundal:
Ingredients needed: Chick pea (1 cup),Oil (1 tsp), Mustard (1/4 tsp), Cumin (1/4 tsp), asafoetida (a pinch), urad dal (split-½ tsp), red chilli (1), curry leaves (few), coriander powder (1 tsp), turmeric powder (1/4 tsp), red chilli flakes (1/2 tsp), grated coconut (3 tbsp), fresh coriander leaves and salt according to taste.
Method:
Soak the chickpeas in water for about 5 hours and cook with ¼ tsp of salt and oil drops till a soft consistency.
Strain the water and keep the cooked chole for further preparation.
After heatingoil and add mustard seeds, asafetida, cumin, red chilli, urad dal (split), and curry leaves. To this add turmeric powder, coriander powder, chilli flakes (red), cumin powder, and salt and mix well.
Finally add the boiled chick peas to the frying pan and cook on the medium flame for a while.
Add the grated coconut and remove from the flame and serve hot sprinkled with coriander leaves.
Semiya Payasam:
Ingredients needed: Milk (½ liter), Ghee (2 tbsp), Semiya (100 gm), Aval ( 50 gm), Moong dal (3 tbsp), Javvarisi (2 tbsp), Raisins (8 to 10), Cashew nuts (5 to7), Cardamom ( 2), Sugar (100gm), almonds (2).
Method:
Condense the milk to an amount of ¼ litre but heating it continuously on a reduced flame.
Fry lightly cardamom, cashew nuts and raisins in hot, pure ghee.
Fry the javvarisi and moong dal in hot ghee and cook in pressure cooker till one whistle.
Fry the semiya in pure ghee on a reduced flame and boil in water till just soft.
Add the javvarisi, mashed moong dal to the cooked semiya and add sugar or jiggery and milk to it.
Decorate with cardamom, fried cashew nuts,raisins and shredded almond nuts.
These mouth-watering recipes form an essential part in the celebration of the Saraswati Puja festival. Chole Sundal, different kinds of vada, sabudana kheer, semiya payasam are some of the popular South Indian recipes cooked on Saraswati Puja.